Tonight at 8:00 Eastern time we'll reveal the Cocoa Daisy March kit, Hello, Again on our message board. The email subscribers will receive tonight at 9:00 will contain a special link to the store so that you can pre-order kits before the public reveal on March 3rd. (Yes, you read that right; because February ends tonight, we're pushing back the public access date to the 3rd.) After lots of cold and snow in Michigan, we decided we could really use some spring colors right about now. There are sky blues (including some adorable clouds!), grass greens, and our cute little coffee cup is making another appearance. We're sure that Hello, Again will put you in the mood for Spring!
We'd like to invite you to join us online again this month for the Reveal "party." Just make sure you're signed up for our message boards, and pop in tonight to say "hi," to see the full reveal of the kit and add-ons, and participate in the excitement. There are always a handful of prizes to be given away in the form of FREE money to use in our store. (Be sure to test your log in now so that we have time to troubleshoot if you have any problems getting logged in.)
If you subscribe now, you'll reserve a kit so that you don't miss it before it sells out. Choose from a six-month subscription to the  Main kit or the  Day in the Life kit for pocket scrapbookers. You can also get a pre-paid three-month subscription to the Main or the DITL kits. And now we have Project Art Subscriptions and Planner Subscriptions available as well! Quantities are limited, so sign up now.
Here's a little peek at this month's add ons:
Bonjour
Emily worked her magic with Bonjour this month. She says:
I loved the Craft Market paper called Handbook from Crate Paper that came in this add on. There were so many possibilities with one sheet of paper, so instead of using the whole sheet, I cut out some words that really applied to my topic. Stacking them with the wood tag from Pink Fresh Studios and another word from the Inspired paper (also Craft Market) made this such an easy layout to put together. I added a tiny strip of paper and a couple of Simple Stories die cuts from the main kit, just because I needed a punch of green. 🙂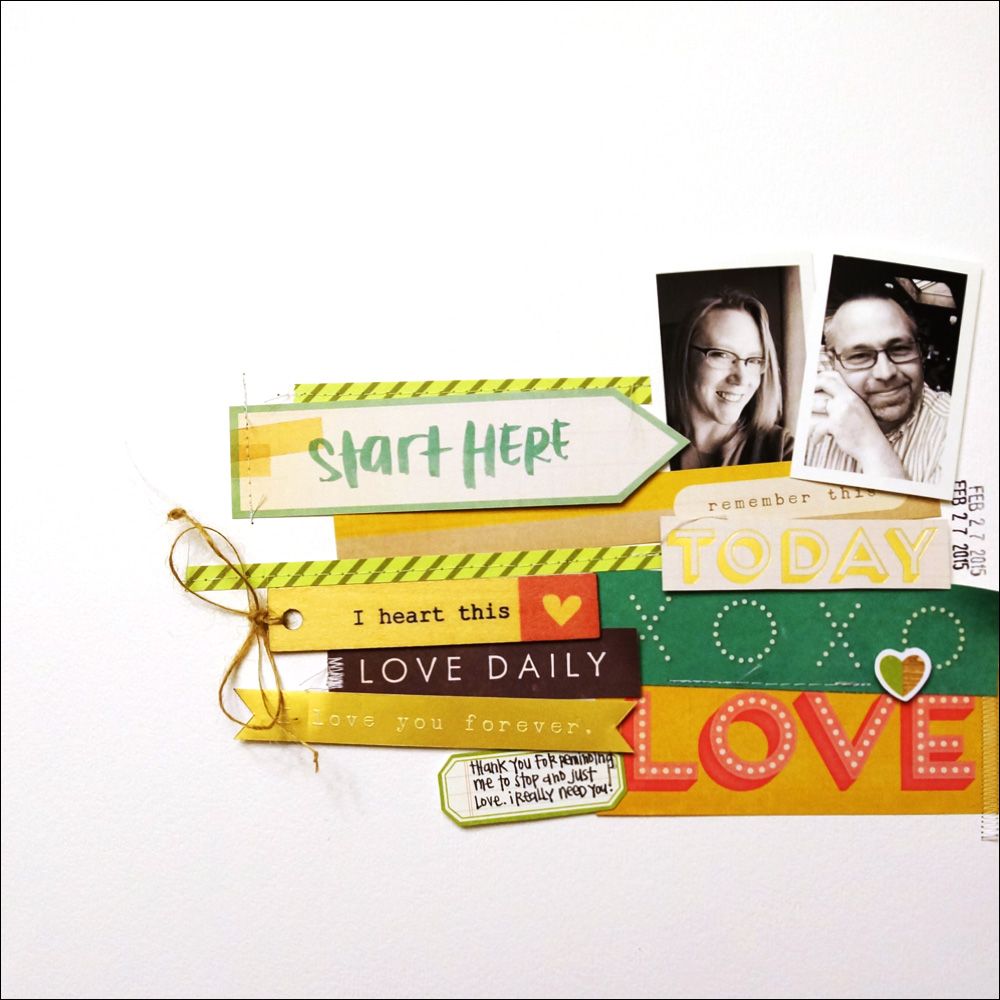 Ciao.
The card was created with a DITL 4×6 card as the base, trimmed down to fit a stock card. I added that adorable Evalicious camera flair from the kit along with a Pink Fresh Puff as part of my sentiment. A few Kaiser Craft epoxy star stickers were scattered throughout to add to the celebratory theme, then a bit of machine stitching added the finishing touch!
 Guten Tag.
Doris made this fabulous, surprise-filled layout with Guten Tag. She says:
One of my favorite things about Cocoa Daisy is the monthly patterned paper add-on option.  I always get it as in my opinion, one can never have too much patterned paper.  This month's is perfection!  I always brake for cloud paper and the glittered cut apart sheet is so lovely!  I used it to make a gang tag mini-album to house all my Easter Instagram photos on this layout.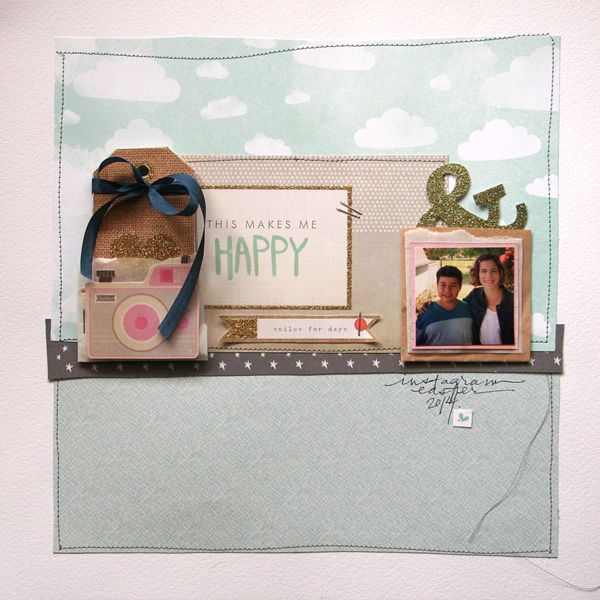 Check out the little tag booklet, cut from one of the papers!
 Day in the Life: March
Since Christine stepped down from the Design Team, we've decided to assign her a Reveal Morning layout every month to be sure she scraps. Here's what she says about using this month's DITL kit:
When I saw the cards for this month's Day in the Life kit I knew they would make a perfect mini album. I didn't have a specific event to scrap so I just chose a handful of photos from the month of January. It's a great way to document a lot of everyday moments. The cards made for an easy color palette to work with, soft whites mixed with pops of color. And the Heidi Swapp wood handle stamp was so much fun!
 Daisy Day Planners.
 Reveal Night.
Join the Cocoa Daisy ladies for Reveal Night fun and chatter on the message board starting at 8:00 pm EST tonight, February 28. Denise Morrison is hosting, so come and join her and our other designers! Tina Walker is our guest designer; you won't want to miss her gallery of projects made with the kit.  We'd love to have everyone– whether you subscribe or not, join us for the fun!
Kits and add-ons go on sale tonight, February 28th, for subscribers at 9:00 PM EST. Because it's a short month, our general public purchase date will be pushed back to the 3rd of March at 12:00 midnight Eastern. 
Not a subscriber? It's easy to join and you will receive the your kit automatically. We don't want you to miss out!