The last challenge for the crop.
Time to look at the creative mess we have made and thing about cleaning up?? (but not for too long!!)
For this challenge I want you to go through your stash, find something really old and give it new life.
A packet of chipboard? Can you distress, paint, emboss?
A piece of pattern paper? Can you make something new with it, give it a coat of gesso or just cut it?
A brad? Can you cover it, paint it?
A packet of rubons? Can you cut them up and use part of them?
A stamp? Can you use a mask and stamp over the top?
A stencil? Can you ink it, trace it, mist it?
Be inventive, be creative and tell us how you made something old new again.
How many old things can you put onto one creation?
Create a card or a layout and explain what you used and how you made it "new"
I've used some old rub ons, altering them with some glimmer mist (using 2 different techniques), the sticker sheet from some old Scenic Route alpha stickers and an old(ish) tag from 7Gypsies that I layered up with some rub ons.
And the lovely Stephanie made this glorious card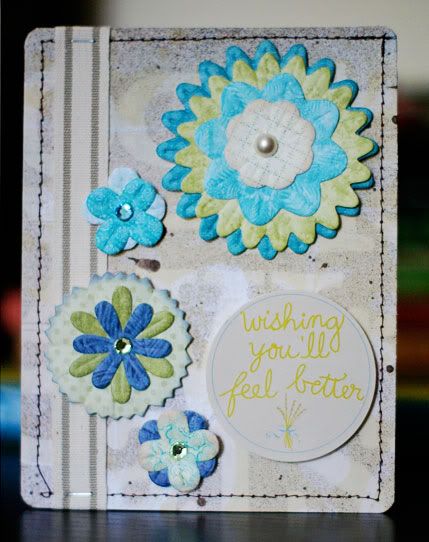 "I started with some old BG paper, then used some really old Making Memories plastic letters as a mask, then finished it off with some old stickers! Everything on here (aside from the ribbon) is at least 3 years old."
How cool, thanks Stephanie
All Entries must be new creations to be eligible for the prize. Make sure you upload your creation to the Cocoa Daisy Gallery with SPRING CLEANING CHALLENGE 25 in the title. After you have uploaded your project, please link your creation to this Challenge thread, so we know you've completed the challenge.
You have until MAY 6TH, 8pm Eastern to complete the challenges you wish to participate in. Challenge Winners will be announced later that week!