Park Statues
Nearly every large park has a statue or two commemorating some famous general, politician, or citizen. I'd like you to create a layout where you have one or two statues as well, here's how:
1. Statues are usually made out of grey granite. Use a black and white photo of a person to mimic the grey color.
2. Cut out or silhouette the person in your photo.
3. Every park has birds that like to perch on the statues, they tend to leave little splats on the statues. Add splats of paint--not necessarily on your silhouetted photo--to your layout.
4. Statues usually have a placard describing the accomplishment of the memorialized person. Include in your layout a tribute of some sort to the person. Bonus points for putting it on a plaque of some sort.
5. Statues are usually out in the open. Try to employ white space in your design.
Here's my layout created for the challenge. I added the splats of paint as a challenge to myself, and whoa, it was a challenge. I ended up using white paint on white cardstock. It's subtle, but they are still splats of paint. My husband and son both worried that I'd ruined the layout by spilling something on it.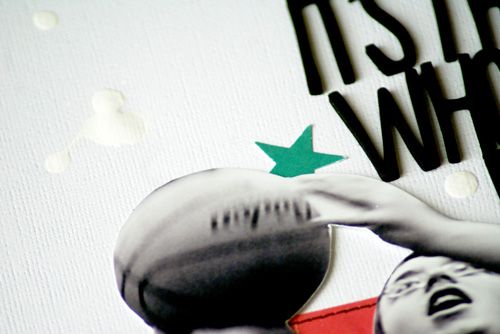 Here's Denise's lovely support:
To successfully enter this challenge, you'll need to have the following on your layout:
• black and white photo of person
• silhouetted photo
• paint splats
• journaling about that person
• white space
All Entries must be new creations, created especially for this challenge, to be eligible for the prize. Make sure you upload your creation to the Cocoa Daisy Gallery with PARK STATUES CHALLENGE 13 in the title. After you have uploaded your project, please link your creation to this Challenge thread, so we know you've completed the challenge. No combining of challenges allowed.
You have until MAY 6TH, 8pm Eastern to complete the challenges you wish to participate in. Challenge Winners will be announced later that week!