How do you define the perfect picnic? What are your criterias for success? Here are some suggestions from me... for a successful picnic you might want:
somewhere beautiful to have your picnic - use one sheet of cardstock
a picnic blanket - use a grid of at least 3x3 on your layout, any size
yummy food - use 3 different patterned papers
lovely friends - use 3 photos
fun games - add stitching, either machine stitching or stitch by hand
nice weather - stamp three times using the same stamp
happy laughter - add three of any decoration of your choice (3 of the same type, but they don't need to be identical)
Other than this you are allowed to add as much journaling and as many letters (for title etc) as you wish and you can also use mist or paint, but I don't want you to use anything else.
Here is the layout I created... I used my sewing machine to create the grid and I used my new favourite stamp - the grungy butterfly - three times using two different distress inks. I decided to bring me, me and me to the picnic and added three photos of myself, from 2008. The wooden pieces from Prima are my three decorations.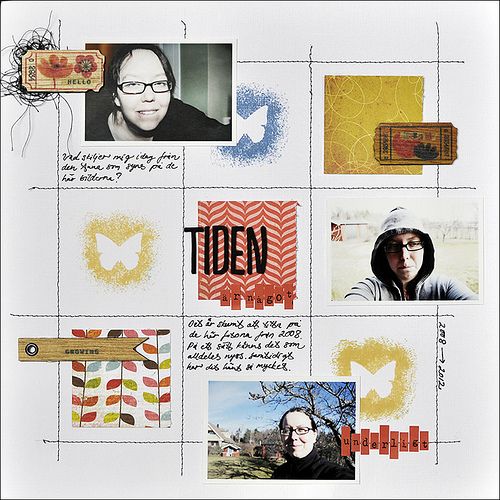 and Christine's take on the challenge: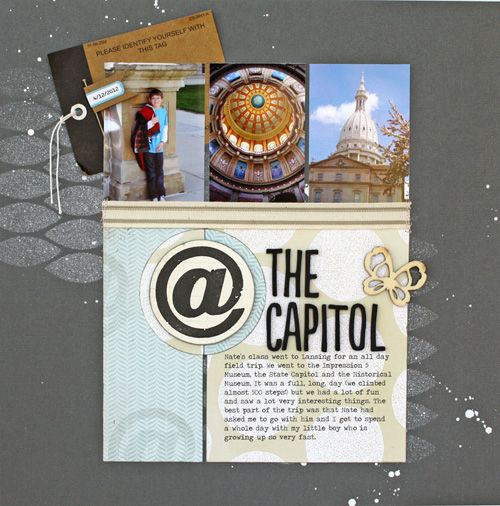 and Lisa's layout for this challenge:
All Entries must be new creations to be eligible for the prize. Make sure you upload your creation to the Cocoa Daisy Gallery with RECIPE CHALLENGE 16 in the title. After you have uploaded your project, please link your creation to this Challenge thread, so we know you've completed the challenge.

You have until MAY 6TH, 8pm Eastern to complete the challenges you wish to participate in. Challenge Winners will be announced later that week!