OK, ladies, final challenge. And this one's a hard one...
I recently moved to a new home with significantly less storage space than the place I was in. I had basically managed to fill an entire attic with stuff that I just couldn't get rid of, emotionally speaking. Papers and notebooks from elementary school through college, old toys and dolls. My plan was to keep it all in the attic at my mom and dad's house forever, but then they sold that house and I had to take it. Moving gives you the opportunity to reevaluate what it is that you really need and want. I felt like my huge pile of possessions had become burdensome. So I had to make some tough decisions. And that experience is the inspiration for this challenge.
Here's what you do:
1. Find something or things that you know you don't need. It's sitting in an attic or closet or box somewhere and you never use it and don't realistically expect to ever use it. But for some reason you have a hard time letting it go.
2. Photograph it - take several, document the details.
3. Make a layout about it, telling its story.
4. Throw it away/donate it, knowing that you can always remember it through your layout.
Here's a layout I did about an old doll I recently threw out.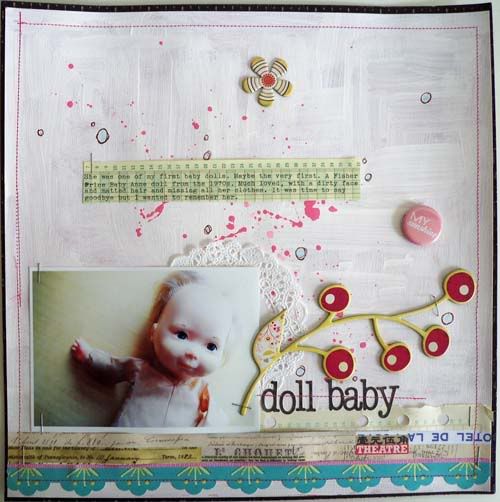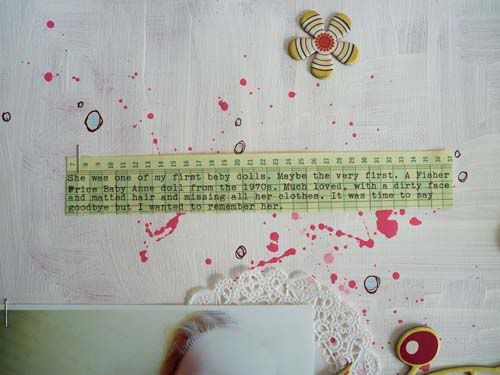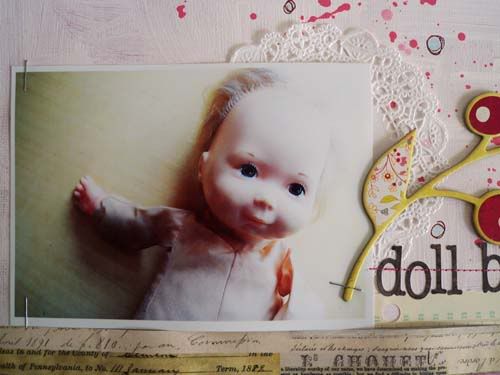 And the layout I did for Anna's typewriting challenge could work for this one as well.
Good luck!
Please submit your response to the challenge by 22nd May, 8pm Eastern. Simply post your layout/creation as a reply to the challenge post. We will decide on the winners and announce on the forum shortly after. Prizes for this crop will range from a variety of scrapbooking products, and gift certificates from our store. Thank you for playing along and good luck!