I am so excited (and a little nervous) to bring you:
Here are some of the tools: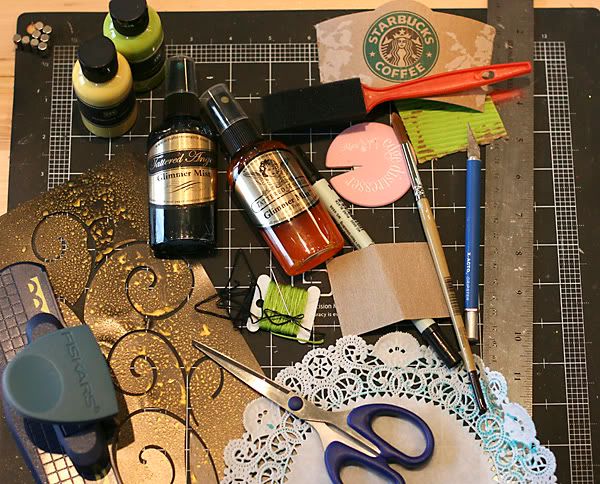 Ok so don't freak out over the tools list...
*scissors and/or craft knife
*foam and/or paint brush
*paint
*glimmering mists or other sprays (not necessary but way too fun)
*stuff--- look around for fun stuff, starbucks holders, bubble wrap, plastic forks, doilies etc)
*mask (Heidi Swapp, Tim Holtz, or a homemade Mask)
*punches
*Distressing tools--- Heidi Swapp, sandpaper,
*Needle & Thread

Some of the things you don't really need but I will show you how I incorporate them. I want you to have tons of fun & get messy!
The scrapbook goods (I used my March Kit & a little bit of Feb. Kit)
*Pattern Paper (lots of it...especially those with "things" you can cut out!)
*do-dads & embellishments
(see picture below)
Please feel free to ask any questions!
Edit: TIME CHANGE....I forgot about some commitments for church so this class will now be at 4 pm EDT