Hello and welcome to our 12 Techniques of Christmas.

We will be having a new challenge with a different technique every other day leading up to Christmas.
Feel free to use these challenges as prompts and inspiration to create leading up to Christmas.
Please come back and share what you have made.
One person will be picked at random after Christmas and will be sent a goodie bag in the New Year from myself.
The deadline to upload for all the December Challenges is 30th DEC 10pm.
Any questions? Please ask!

Day #9--Folding Paper
Is bought to you by Emily.
Today we're taking inspiration from snowflakes. Here are a couple of sites you can go to if you don't remember how to fold paper to make a snowflake. It's OK, I forget how to do it every year too.
5 pointed star
8 pointed star
Now with your snowflake ready to go, just start cutting. If you search for "snowflake patterns" on Pinterest, you'll find lots of ideas to get you started in your cutting! Have fun, be creative, and when you are done, there are a number of things you can do with your snowflake, here are a few ideas:
1. I used my snowflake as a mask for misting, then for embossing. Very versatile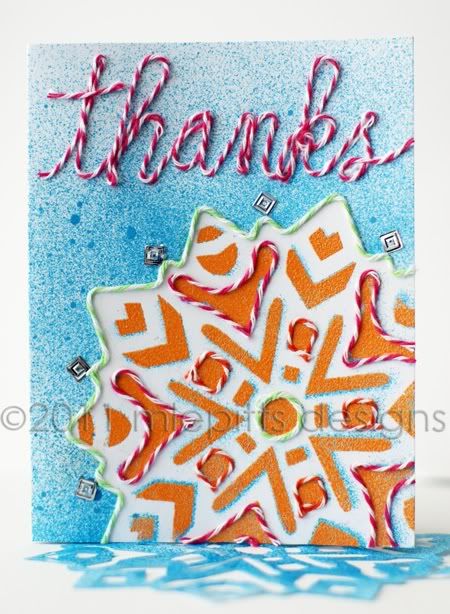 2. Make a banner, example from Space 46
example from
mycutestamps.com
3. Use it as a background element on a layout or card for a tone on tone effect, example from Rox71 at Split Coast Stampers
All you need to do to join in with today's challenge is to fold some paper on your project, it doesn't need to be a snowflake. Have fun!