March Sketch Challenge
Hello Daisies!  Can you believe it's already time for the March sketch? Where'd February go? I know, right?!
The March sketch was created by the fabulous Stephanie Wheeler! I have to admit that I'm usually not a sketchy gal because when I start with a sketch my layout never turns out to look like the sketch but I've been told that that's the cool thing about sketches, you can make it your own by flipping, flopping, or just using it as a partial inspiration. This time I think I did pretty well and got the look I was going for. So without further rambling here is your March Sketch…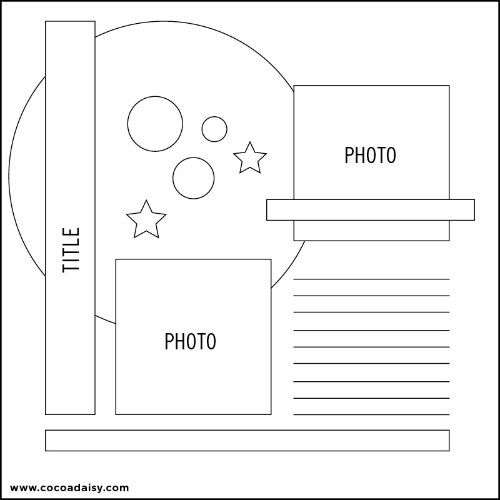 My take on the sketch: I used pieces from the Renderings Add-on & the Freehand Add-on.
As you can see I moved things just a little bit and added some Mandyness to it too. To tone down the background I stitched the vellum on to the wood plank paper and the "best things" label. I'm not one for sideways titles so I changed that up a bit too.
Here's a tip for stitching circles, draw the circle on your layout with pencil and use it as a guide as you stitch. Erase the pencil marks when done.
This beautiful layout was created by Lisa Saunders. As you can see it's totally ok to change the sketch up and make it your own like Lisa did. I love her added bits & pieces and did you notice the viewfinder stamp? Lisa embossed the viewfinder image on vellum. How cool is that?!
So go ahead and try your hand at the sketch this month, do whatever you'd like to make it your's, make it work for you, most of all HAVE FUN!! Upload it to our gallery by Tuesday, the 19th of March and share your link on this thread. There's a $10 coupon code to the Daisy Boutique in it for the winner!