August 29, 2012
There has definitely been lots of talk about this month's kit, He Said, She Said. The DT has raved, the message board is a-buzz, and sneaks popping up on our Instagram, Facebook, and Twitter sites are causing excited chatter! And we know why. Like any good relationship, it's takes a little of this and a little of that and a lot of compromise to make things work. That's exactly what you get in September's kit, a little of this and a little of that, and if you get the patterned paper add on, you'll get a lot of Compromise. Hee hee. Don't you love that name for an add on? All this makes Cocoa Daisy's September kit something to talk about indeed!
Pink is not just for her and blue is not just for him. This kit proves that, it's neither too girly nor too boyish. It's the neutrals that bring the compromise and balance it all out. Featuring papers from Echo Park, October Afternoon, and BasicGrey, between the A and B sides, there's something for everyone here. We've added exclusive Cocoa Daisy Potty People stamps, each with a little heart, fun word phrase stickers about talking from Jillibean Soup, and some cool Negative Days of the Week tags from Ormolu. Wrap it up with ribbon, more potty people, and a funky two sided banner sheet from BasicGrey, and we think it's pretty close to the perfect relationship: a bit of this and a bit of that, topped off with a bunch of compromise.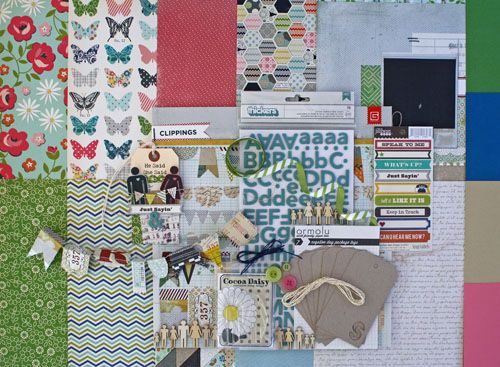 His
With blues, greens, and yellows, this kit could easily be used for boy-inspired projects, but luckily you don't have to limit yourself to only the male species. The stickers from BasicGrey cover many topics from thank you to encouragement to hello to something in French that I don't understand. Echo Park's alpha and sticker sheet focuses on time, family, and photos. We've also got gorgeous wood chip alphas from Pink Paislee and a few more pieces of patterned paper to round out this add on.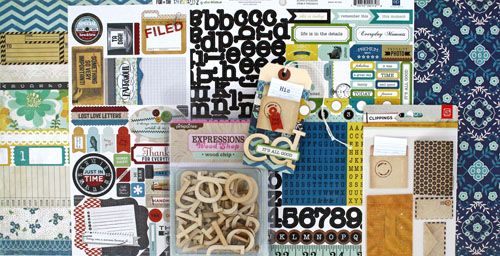 Hers
What could be more girlie than a bunch of hearts? So you might think our Hers add on is girlie and you'd be partially right and partially wrong. The hearts come via Heidi Swapp's Memory File line, but they come with photo sleeves that mimic the old Polaroid pics that took the 70s by storm. There's also a pack of bits and pieces appropriately called Snippets from BasicGrey. These are 4×6 papers you can use as is or cut up and use what you need. Very versatile and not just for girls! We've added fun zigzag washi tape, a great corrugated green alphabet, and a few more papers from OA and BasicGrey. It's really not just for girls!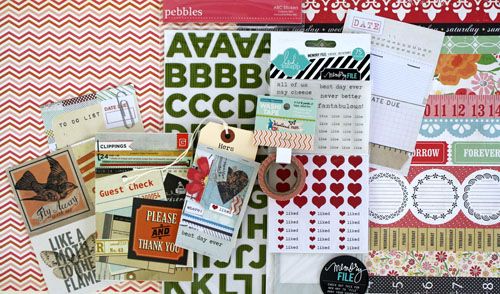 Embellishment Pack
Maya Road's chipboard Potty People, October Afternoon's paper bits and pieces, and BasicGrey's banners and flags make our September Embellishment pack almost like a dress up kit. Our DT has had a fun time this month giving the Potty People lots of character, and you will too. Or you can get back to scrapping and use the pack for embellishing your projects…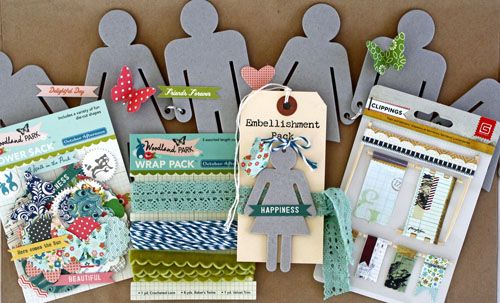 Compromise
Christine keeps saying this combination of patterned papers may be her most favorite ever! She even wondered if she should make these the papers for the main kit. But she compromised and put them in our patterned paper add on instead! Blues, greens, yellows, and a toasty grey from manufacturers like Echo Park, October Afternoon, and Lilybee, our Compromise add on might just mean you don't have to!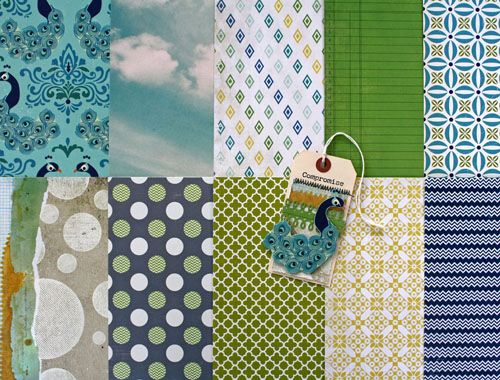 159 Responses to "September's kit He Said, She Said and add ons"
Tell me what you're thinking...
and oh, if you want a pic to show with your comment, go get a gravatar!