December 1, 2013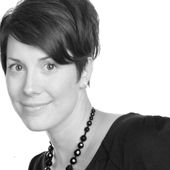 I found Jess through Pinterest. One of her Project Life spreads came up in my feed and I was smitten. I did some searching and hunting and figured out who had designed the awesome clean and graphic spread. I showed Christine and Jess's minimalist style spoke to her as well. We thought that with the huge success of our Day in the Life kits, we should have a guest designer every so often that focused solely on that kit.
I emailed Jess and she was so excited to join us for the month of December. Her only concern: "I tend to use minimal products, are there specific requirements on how much I use on the from the kit?" I responded that indeed, that was the reason we wanted her to guest design for us! To show us her unique take on our Day in the Life kit would make for a fun twist on guest designing. So this is how we came to bring you Jess! Check out her awesome gallery for some gorgeous Project Life inspiration using our Day in the Life: December kit and add ons.
Here's her bio, questionnaire answers, and a bunch of ways you can follow Jess online. Have fun getting to know her!
Jess Forster knew she was addicted to scrapbooking after completing Week in the Life in 2010. After giving birth to her daughter, Jess started to focus all of her memory keeping efforts on Project Life and considers it her go-to memory keeping system of choice. A wife to Aaron and mama to Rowan, Jess enjoys running, drinking too much coffee and seeking adventures big and small in her east end neighbourhood of Toronto, ON, Canada. You can see her clean and simple layouts and other crafty pursuits on her blog at Life on Lee Avenue. 
1. What is your most creative time?
I am most creative during afternoon naps or in the evenings when my daughter goes to bed. I love sitting in my small scrap space, turning on Netflix and watching standup while I print out photos or choose my journaling cards.
2. Share your current top 5 favorite songs/music groups with us.
I love me some indie rock / folk music. Besides listening to stellar mixes from Songza (download this app people!), my top five albums from 2013 that I am listening to include Daughter, Vampire Weekend, Arcade Fire, Neko Case and The Sadies.
3. If you where in a Rock N' Roll band, what would your job be?
You know I am hitting middle age, when just reading this question makes me feel tired! Ha! Okay, seriously, I would either be the photojournalist that travels around with the band taking too many pictures OR the manager of the band, organizing the schedule and telling people what to do
4. Did you ever want to change your name? If so, to what?
I go by a shorten version of my full name….does that count? I go by Jess instead of Jessica, because it's a little more personal to me. Also My parents would always call me Jessica if I was in trouble….maybe that has something to do with it too.
5. If your life was a movie, what actress would play you?
Hmm….Anne Hathaway…..when she had short hair?
6. What's your favorite accessory?
My winning personality! Ha! Seriously, I love me some scarves.
7. How do you cheer yourself up?
A few ways: going for a run, watching stand up comedy or crafting. If all else fails, bring on the wine!
8. If you could have a luncheon with any three people (real of fictitious/ from any time period, dead or alive), which three people would you choose and why?
Good question! I would choose my Auntie Linda, my mom and our family friend Gwen. My favourite memory growing up was sitting around my Aunt's kitchen table, listening and participating in conversations. Since my Aunt is no longer with us, it would be a real treat to speak with her again. I always felt listened to when she asked me questions.
9. What food would describe your style?
A glass of red wine paired with an assortment of cheese and crackers. Simple and classic.
10. What is "dressed up" for you?
Anything that does have spit up on it? Just kidding. On date nights with my husband, I usually wear skinny jeans, boots, and a jacket. I usually pair it with #6 and some matching jewelry.
WEBSITE/BLOG: http://www.lifeonleeavenue.com
TWO PEAS GALLERY: http://www.twopeasinabucket.com/user_profile/407606/
PINTEREST: http://www.pinterest.com/lifeonleeavenue/
FACEBOOK: https://www.facebook.com/jessforster.leeave
TWITTER: https://twitter.com/lifeonleeavenue
INSTAGRAM: http://instagram.com/jess_forster