October 7, 2013
We hope you've enjoyed our cross promotion with Therm O Web last week. Have you had a chance to see what their talented designers created with our September kit, 5th & Main? Head over to their blog to see! Also, don't forget to stop by their Facebook page and tell them thank you for sponsoring the Cocoa Daisy giveaway, and if you haven't already, be sure to like their page.
Due to a technical difficulty with posting images to the blog, I've got one final post for you today, this time from Stephanie. I know we said we'd close the giveaway today, but I'm going to leave it open until Tuesday at 10 PM EST. So make sure you comment on all the Therm O Web posts for a chance to win! I'll post the winner on Wednesday morning.
Last week, I had the pleasure of getting to test out some fantastic products from Therm O Web. I will admit, I was expecting to get a few glue runners in my package, but I was pleasantly surprised when I opened the box to find a wide variety of other great adhesive products! Aside from the basics like foam squares and adhesive runners, they included Glitter Dust Photo Corners, the ever fantastic Supertape, and my favorite new-to-me-product, Glitter Dust.
Supertape is the perfect remedy for adhering flat-backed flair! Not only is it thin, but it is really strong. I found myself using Supertape often to hold down those bits and pieces that a regular glue runner just wouldn't hold. I love that it comes in so many different widths as well! Grab a couple of rolls and you'll never be lost when it's time to embellish.
I used the 3D Foam Squares to hold down my candy dots on my "It's Here, Fall" layout. They were the perfect size and height to give me just a little lift. These also come in not just different thicknesses, but different lengths and colors as well. They are perfect for layering!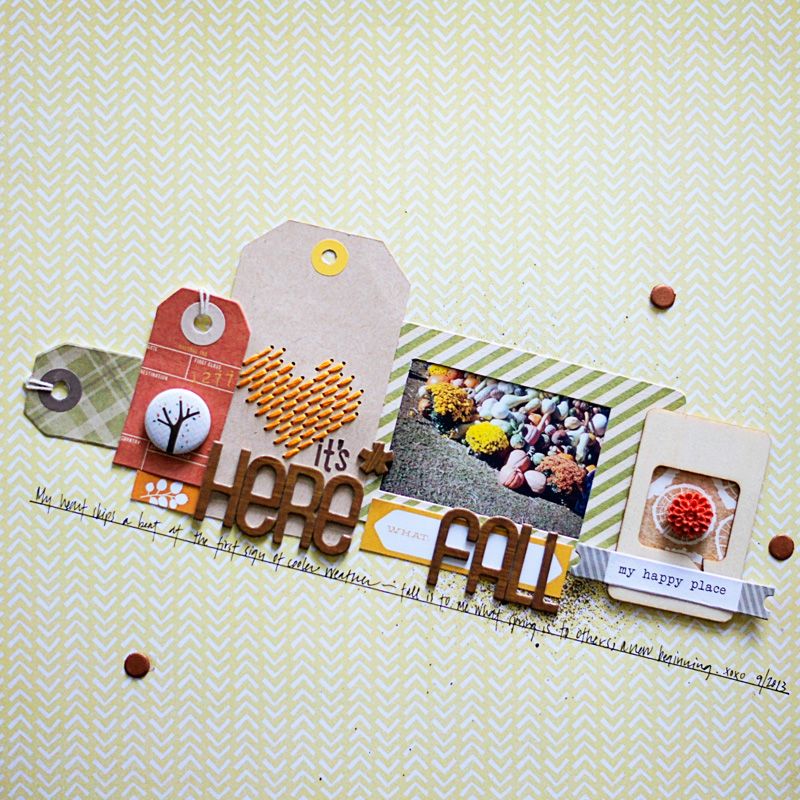 Glitter Dust was new to me, but it was pretty much love at first spray. I liked how the spray was thin enough to dry really quickly, but still gave good coverage–not too overwhelming, but not spotty and sparse. I honestly expected it to warp my cardstock, but once the spray was dry, my paper was completely flat! I fully expect to use Glitter Dust to my upcoming Christmas projects, and I may need to go grab a few extra colors, too.